About Perth Ayurveda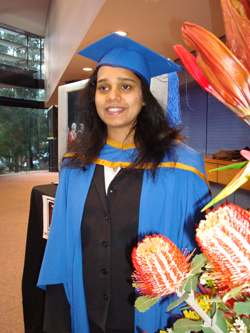 Perth Ayurveda is a small center conjured from the conception of an individual with exemplary skills as earned through experience and an acute knowledge of the art of Ayurveda, to bestow holistic health care. In today's world with reasons like stress, pollution, unbalanced diet or other detrimental living practices ones health preservation has become a challenge. Perth ayurveda offers a number of rejuvenation programs suited to your specific body type and lifestyle, based on the ancient principles of Ayurveda.
Dr. Jini is a registered medical practioner in Indian system of medicine. She has been practicing Ayurveda for about 15 years including India, Sydney and Perth. In her patient care she emphasizes the importance of an ayurvedic way of living and following an ayurveda diet based on individual dosha type. She excels in designing custom treatment plans (herbal and panchakarma) based on people's individual needs. After studying in India and practicing both in Australia and India, this has given her the gift of being true to the purity of Ayurvedic knowledge while understanding its application in the western world. Jini believes that diseases can be prevented and managed by proper diet, lifestyle and good nutritional supplement. She also offers an ancient method of health assessment and advise on nutritionand lifestyle in Australia based on individual constitution. Her specialisation is the management of various chronic illness including womens health issues and infertility.
Dr.Jini is an ayurveda graduate (B.A.M.S) from Rajiv Gandhi university of health sceine- Banglore. India. After the formal University education, she has further more taken her post graduation in Occupational Health from University of Wollongong, NSW-Australia.
Jini started her Ayurvedic Journey from Amala Ayurvedic cancer and research center in Trissur as senior house surgen. Later Jini spent the first 5 years as an Ayurvedic Practitioner in Vaidyarathnam Oushadashala and nursing home Ollur-trishur, and Kannur kerala. She successfully practiced ayurveda in Kalari Kovilakam Palakad, Nagarjuna ayurvedic nursing home Kaladi, Parimal ayurvedic nursing home Perinthalmanna. Kerala Ayurveda Pharmacy and nursing home. Their hospitals function as a coherent division in modern hospitals in various states of India.
Qualifications and Professional Accreditations
Accredited Member of Australian Traditional Medicine Society (ATMS)
Professional member of Ayurveda Association of Australia (AAA)
Professional member of AMAI
Bachelor of Ayurvedic Medicine (Kerala, India)
Professional member of Ayurvedic association of Karnataka and Kerala.